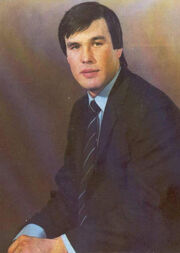 Sergei Panteleimonovich Babinov (born July 11, 1955 in Chelyabinsk, Soviet Union) is a retired ice hockey player who played in the Soviet Hockey League. He played for HC CSKA Moscow.
Babinov played for the Soviet Union in the 1976 Olympics and in the 1976, 1979, 1981, 1982, and 1983 World Championships.
He was inducted into the Russian and Soviet Hockey Hall of Fame in 1979.
Ad blocker interference detected!
Wikia is a free-to-use site that makes money from advertising. We have a modified experience for viewers using ad blockers

Wikia is not accessible if you've made further modifications. Remove the custom ad blocker rule(s) and the page will load as expected.