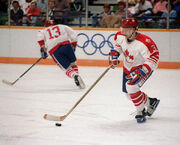 Serge Roy (born June 25, 1962 in Sept Iles, Quebec) is a retired Canadian defenceman.
He played for the Canadian national team from 1985 through 1988 and in 1990-91. He played in the 1988 Olympics.
Roy played minor pro hockey mostly in North America and played one season each in Sweden and Germany.
His pro career lasted from 1983 to 1999.
Ad blocker interference detected!
Wikia is a free-to-use site that makes money from advertising. We have a modified experience for viewers using ad blockers

Wikia is not accessible if you've made further modifications. Remove the custom ad blocker rule(s) and the page will load as expected.