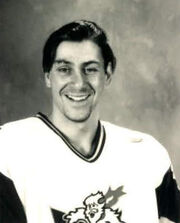 Serge Roberge (born March 31, 1965 in Quebec City, Quebec) was a professional ice hockey right winger who played nine games in the National Hockey League. He played with the Quebec Nordiques.
He played junior hockey with the Quebec Remparts, Hull Olympiques, and Drummondville Voltigeurs from 1982 to 1985. Roberge was known as an enforcer, not a scorer. Undrafted by the NHL, he played senior hockey in Newfoundland and Labrador and pro hockey with the Virginia Lancers until the Montreal Canadiens signed him as a free agent in 1988.
Roberge spent two and a half seasons with the Sherbrooke Canadiens until the Quebec Nordiques signed him in 1990. That got him into his only NHL experience - nine scoreless games with Quebec in 1990-91.
He then played in the American Hockey League and International Hockey League until 1998. From then until his retirement he played in the lower minor leagues.
References
Edit
Ad blocker interference detected!
Wikia is a free-to-use site that makes money from advertising. We have a modified experience for viewers using ad blockers

Wikia is not accessible if you've made further modifications. Remove the custom ad blocker rule(s) and the page will load as expected.