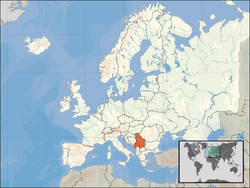 Serbia and Montenegro were a union that existed between 2003 and 2006. They had been part of Yugoslavia.
Montenegro declared independence on June 3,2006. Serbia declared independence on June 5, 2006.
The union was in southeastern Europe and had a population of about 11,000,000.
Serbia and Montenegro

Info

Rinks

Players

Referees

Population in 2006

10,832,545

Indoor

--

Total

--

Male

--

Capital

Belgrade

Outdoor

--

Male

--

Female

--

IIHF From

Junior

--

Country From

1992-2006

Female

--

The country was an IIHF member and competed in IIHF World Championships. In 2006 Serbia and Montenegro split into Serbia (as its own country) and Montenegro (as its own country).
Ad blocker interference detected!
Wikia is a free-to-use site that makes money from advertising. We have a modified experience for viewers using ad blockers

Wikia is not accessible if you've made further modifications. Remove the custom ad blocker rule(s) and the page will load as expected.