Seibu Prince Rabbits
SEIBUプリンス ラビッツ

City:
Tokyo, Japan
Founded:
1972
Operated:
1972 - 2009
Home Arena:
DyDo Drinco Ice Arena
Colors:
Blue and white
Franchise history
1972 -:
Kokudo Keikaku Ice Hockey Club
- 2006:
Kokudo Ice Hockey Team
2006 - 2009:
Seibu Prince Rabbits
Championships
Playoff Championships:
Asia: 2005, 2006
JIHL: 1975, 1978, 1986, 1989, 1992, 1993, 1995, 1998, 1999, 2001, 2002, 2003, 2004
All Japan: 1975, 1982, 1988, 1990, 1997, 1998, 1999, 2003, 2004, 2008, 2009
The Seibu Prince Rabbits (Japanese: SEIBUプリンス ラビッツ, Seibu Purinsu Rabittsu) (formerly Kokudo Ice Hockey Team) are a former team of the Asia League, based in Nishitokyo, Japan. The team was founded in 1972. They played their home games at the DyDo Drinco Ice Arena.
They were champions of the Asia League for 2004-05 and 2005-06. The Prince Rabbits folded following the 2008-09 season, in the wake of financial difficulties related to the Global Financial Crisis. A large number of the team's players signed with the newly established Tohoku Free Blades for the 2009-10 season.
Achievements
Edit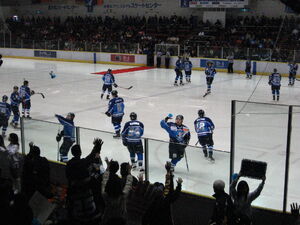 All-time standings
Edit
Kokudo/Prince Rabbits Greats
Edit
Ad blocker interference detected!
Wikia is a free-to-use site that makes money from advertising. We have a modified experience for viewers using ad blockers

Wikia is not accessible if you've made further modifications. Remove the custom ad blocker rule(s) and the page will load as expected.