The Seguin Huskies are a Canadian Junior ice hockey team based in Humphrey, Ontario, Canada. They play in the Greater Metro Junior A Hockey League.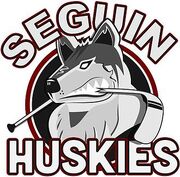 The Seguin Huskies joined the GMHL in the Spring of 2013.[1][2]
The Huskies are the first junior team in Humphrey since the Seguin Bruins of the Ontario Junior Hockey League folded in 2010.[3]
On September 14, 2013, the Huskies played their first ever game as a franchise. The Huskies traveled to Bracebridge, Ontario to play the second year Bracebridge Phantoms. At 3:46 into the first period, Connor Scott scored the first goal in franchise history. Tanner Emerson made 28 saves to land the team's first ever victory, a 15-3 romp of the Phantoms.[4]
On September 15, 2013, the Huskies played their first ever home game. They hosted the Phantoms and defeated them 10-4. Kevin Munge scored the first home goal in team history (3 goals, 2 assists on the night) and Tanner Emerson picked up he win with 36 saves.[5]
The Huskies finished their inaugural season 39-1-2.
Season-by-season standings
Edit
Season
GP
W
L
T
OTL
GF
GA
P
Results
Playoffs
2013-14
42
39
1
-
2
295
106
80
1st of 20 GMHL
Lost Semi-final
2014-15
42
34
7
-
1
319
97
69
2nd of 10 Nor Div
5th of 22 GMHL
Lost in League Finals
2015-16
42
19
20
0
3
206
160
41
5th of 10 Nor Div
17th of 30 GMHL
Lost Div. Quarterfinal, 3-0 (Islanders)
Seguin Huskies defeated Bobcaygeon Bucks 3-games-to-none in division quarter-final
Seguin Huskies defeated Rama Aces 3-games-to-none in division semi-final
Bradford Rattlers defeated Seguin Huskies 4-games-to-none in semi-final
References
Edit
External links
Edit
Ad blocker interference detected!
Wikia is a free-to-use site that makes money from advertising. We have a modified experience for viewers using ad blockers

Wikia is not accessible if you've made further modifications. Remove the custom ad blocker rule(s) and the page will load as expected.