Ad blocker interference detected!
Wikia is a free-to-use site that makes money from advertising. We have a modified experience for viewers using ad blockers

Wikia is not accessible if you've made further modifications. Remove the custom ad blocker rule(s) and the page will load as expected.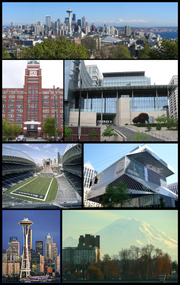 Seattle is a city in the northwestern part of the state of Washington. It is the largest city in the state and the region.
Seattle has a population of close to 600,000 and a metropolitan area of over 3,000,000.
The city had been awarded a conditional National Hockey League expansion franchise for the 1976-1977 season which never came to fruition. The team was tentatively called the Seattle Totems after the long time Western Hockey League team in the city.
On October 1, 2012, Daryl Katz, the owner of the Edmonton Oilers of the National Hockey League had meetings with city officials to discuss the possibility of the the Oilers franchise relocating to recently approved arena to be built in the hopes of luring a National Basketball Association and/or a National Hockey League team to the city. See link to story in links section.
Western Hockey League (1955-1957) renamed Totems
Seattle Ice Hockey League (Senior Amateur) (1942-1943) folded
Seattle Ice Hockey League (Senior Amateur) (1942-1943) folded
Northwest International Hockey League (1943-1944) join Pacific Coast Hockey League as Stars
Pacific Coast Hockey League (1949-1950)
Western Hockey League (1953-1954) suspend operations for one year, return as Americans
Western Canada Hockey League (1977-1978) see Western Hockey League
Western Hockey League (1978-1985) renamed Thunderbirds after franchsie was sold to new local ownership
Pacific Coast Hockey League (1928-1931) join North West Hockey League
North West Hockey League (1933-1936) join Pacific Coast Hockey League as Seahawks
Northwest International Hockey League (1943-1944) joins Pacific Coast Hockey League
Pacific Coast Hockey League (1944-1949) renamed Bombers
Pacific Coast Hockey League (1950-1952) join Western Hockey League as Bombers
Western Hockey League (1952-1953) renamed Bombers
(PCHA, (1915-1924) folded, causing whole league to collapse
Pacific Coast Hockey League (1940-1941) return with league as Ironmen in 1944
Pacific Coast Hockey League (1936-1940) renamed Olympics
Pacific Coast Hockey League (1944-1945) folded
Pacific Coast Hockey League (1944-1945) folded
Western Hockey League (1985-present)
Western Hockey League (1957-1974) join Central Hockey League
Central Hockey League (1974-1975) folded when city granted conditional NHL expansion team
National Hockey League (1975-1975) conditional expansion franchise, never played
Northern Pacific Hockey League (2006-2012) join Western States Hockey League
Western States Hockey League (2012-Present)
External Links
Edit