The Scotty Munro Memorial Trophy is awarded annually to the regular season champion of the Western Hockey League.
It is named after one of the league's founders, Scotty Munro. Munro served as the general manager of the Estevan Bruins, and later as the head coach and general manager of the Calgary Centennials.
List of Winners
Edit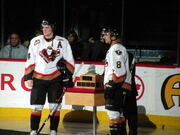 References
Edit
2006–07 WHL Guide, pgs. 152–185
Ad blocker interference detected!
Wikia is a free-to-use site that makes money from advertising. We have a modified experience for viewers using ad blockers

Wikia is not accessible if you've made further modifications. Remove the custom ad blocker rule(s) and the page will load as expected.