Ad blocker interference detected!
Wikia is a free-to-use site that makes money from advertising. We have a modified experience for viewers using ad blockers

Wikia is not accessible if you've made further modifications. Remove the custom ad blocker rule(s) and the page will load as expected.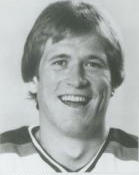 Scott Campbell (born June 22, 1957 in Toronto, Ontario) was an ice hockey defenceman who was drafted first overall by the Houston Aeros of the World Hockey Association in the 1977 WHA Amateur Draft.
Playing career
Edit
After a stellar junior career with the London Knights, Campbell was also selected in the first round by the St. Louis Blues of the NHL but opted to join the WHA. He played 149 WHA games for the Aeros and the Winnipeg Jets, and shifted to the NHL when the Jets joined that league in 1980. He (along with Morris Lukowich) was one of two players protected by the Jets from the dispersal draft, showing the faith the team had in his abilities. However, the cold weather in Winnipeg exacerbated a chronic asthma condition and he requested a trade after a season in Winnipeg. The asthma condition ultimately forced him into retirement at the age of 25 after briefly also playing for the St. Louis Blues. After retiring, he became involved in harness racing and found success as a stable owner.
Career statistics
Edit

                                            --- Regular Season ---  ---- Playoffs ----
Season   Team                        Lge    GP    G    A  Pts  PIM  GP   G   A Pts PIM
--------------------------------------------------------------------------------------
1973-74  Guelph Biltmore Mad Hatte   SOJHL   0    0    0    0    0  --  --  --  --  --
1974-75  London Knights              OHA    68    4   15   19   52  --  --  --  --  --
1975-76  London Knights              OHA    62    6   25   31   46  --  --  --  --  --
1976-77  London Knights              OHA    60   23   44   67   86  --  --  --  --  --
1977-78  Houston Aeros               WHA    75    8   29   37  116   6   1   1   2   8
1978-79  Winnipeg Jets               WHA    74    3   15   18  248  10   0   2   2  25
1979-80  Winnipeg Jets               NHL    63    3   17   20  136  --  --  --  --  --
1980-81  Winnipeg Jets               NHL    14    1    4    5   55  --  --  --  --  --
1980-81  Tulsa Oilers                CHL     3    0    0    0    9  --  --  --  --  --
1981-82  St. Louis Blues             NHL     3    0    0    0   52  --  --  --  --  --
1981-82  Salt Lake Golden Eagles     CHL     3    0    1    1   31  --  --  --  --  --
--------------------------------------------------------------------------------------
         WHA Totals                        149   11   44   55  364  16   1   3   4  33
         NHL Totals                         80    4   21   25  243

External links
Edit