Ad blocker interference detected!
Wikia is a free-to-use site that makes money from advertising. We have a modified experience for viewers using ad blockers

Wikia is not accessible if you've made further modifications. Remove the custom ad blocker rule(s) and the page will load as expected.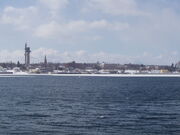 Sault Ste. Marie, Michigan is a city of about 16,000 in northern Michigan, United States.
It is on the opposite bank of the St. Mary's River from Sault Ste. Marie, Ontario.
Despite its being in the United States Sault Ste. Marie has had a number of teams in the Northern Ontario Hockey Association.
(Northern Ontario Junior Hockey League, 2008-2012) join NAHL
(North American Hockey League, 2012-2015) rejoin NOJHL; NAHL franchise rights to Middletown, New Jersey
(Northern Ontario Junior Hockey League, 2015-Present)
(Midwest Junior Hockey League, 2012-2015) join USPHL when league absorbed in to USPHL
(United States Premier Hockey League-Midwest Division, 2015-Present)
Pullar Stadium
Taffy Abel Ice Arena
Big Bear Arena & Fitness Center
Kaine's Rink
External Links
Edit