Ad blocker interference detected!
Wikia is a free-to-use site that makes money from advertising. We have a modified experience for viewers using ad blockers

Wikia is not accessible if you've made further modifications. Remove the custom ad blocker rule(s) and the page will load as expected.
This article is about the senior and minor pro teams. For the Saskatoon Quakers junior team please see Saskatoon Quakers (junior).

The Saskatoon Quakers were a senior hockey team in Saskatoon, Saskatchewan, Canada, They were named after the Quaker Oats Company, a major employer in the city.
The history of the Saskatoon Quakers goes back to 1918 when they won the provincial championship. Their next recorded appearance was in 1926-27 when they lost the Saskatchewan Senior final.
They played for four seasons from 1930 thorugh 1933. In the last year they reached the Allan Cup Final which they lost to the Moncton Hawks. They were still chosen to represent Canada at the 1934 World Championship in Milan, Italy. The Quakers won that title after a tour of Europe (see 1933-34 Saskatoon Quakers).
Although Saskatoon continued to be represented in senior hockey, the Quakers name disappeared until 1936-37. The Quakers played for six seasons, winning the Saskatchewan title in 1938-39 and 1941-42.
Again the Quakers name disappeared, this time until 1947-48. The team won the Western Canada Major Hockey League title in 1950-51.
The entire league joined the minor pro Pacific Coast Hockey League the following season and the Quakers took the league title that year. The league changed its name to the Western Hockey League in 1951-52. But after five seasons the costs were too mmuch and the team folded. It was ressurected in 1957-58 with a split home between Saskatoon and St. Paul, Minnesota but that experiment failed.
The Quakers came back as a senior team in 1960-61 in the Saskatchewan Senior League. They won the league in 1962, 1963, and 1964 but lost the western final in each year. The league then admitted some teams from Alberta and became the Western Canada Senior Hockey League in 1965-66. In 1967-68 the Quakers won the league but again lost in the western playoffs.
They played three seasons back in the Saskatchewan League. In 1971-72 they started out in the Prairie Hockey League) but folded in January.
The 1933-34 team was inducted into the Saskatchewan Hockey Hall of Fame in 2015.
Season-by-Season Records
Edit
Saskatchewan Senior Hockey
Edit
Season
Games
Won
Lost
Tied
Points
Goals
for
Goals
against
Standing
Playoffs
1926-27
-
-
-
-
-
-
-
-
Lost Final
1929-30
12
7
3
2
16
32
25
1st
Won Final & Province Lost West
1930-31
-
-
-
-
-
-
-
-
Lost Final
1931-32
-
-
-
-
-
-
-
-
Lost Final
1932-33
20
13
7
0
26
50
29
1st
Won Final Won West Lost Allan Cup
The Quakers did not play in 1927-28, 1928-29, 1934-35, and 1935-36. They won the 1934 World Championship.
Saskatchewan Senior Hockey League
Edit
Season
Games
Won
Lost
Tied
Points
Goals
for
Goals
against
Standing
Playoffs
1938-39
30
24
6
0
48
114
64
1st
Won Final Lost Western Semi Final
1939-40
32
15
14
3
33
126
126
3rd
Lost Semi Final
1940-41
32
15
17
0
30
143
114
3rd
Lost Semi Final
1941-42
32
20
9
3
43
148
110
1st
Won Final Lost Western Semi Final
Season
Games
Won
Lost
Tied
Points
Goals
for
Goals
against
Standing
Playoffs
1947-48
48
19
27
2
40
187
229
5th
Out of Playoffs
1948-49
48
8
38
2
18
149
307
5th
Out of Playoffs
1949-50
48
24
23
1
49
190
227
3rd
Lost Semi Final
Season
Games
Won
Lost
Tied
Points
Goals
for
Goals
against
Standing
Playoffs
1950-51
59
31
27
1
63
246
234
3rd
Won Final Lost National Semi Final
Pacific Coast/Western Hockey League
Edit
Note: GP = Games played, W = Wins, L = Losses, T = Ties Pts = Points, GF = Goals for, GA = Goals against
| | | | | | | | | | | |
| --- | --- | --- | --- | --- | --- | --- | --- | --- | --- | --- |
| Season | League | GP | W | L | T | GF | GA | Points | Finish | Playoffs |
| 1951-52 | PCHL | 70 | 35 | 21 | 14 | 273 | 225 | 84 | 2nd Overall | Won Final |
| 1952-53 | WHL | 70 | 35 | 26 | 9 | 268 | 240 | 79 | 1st Overall | Lost Final |
| 1953-54 | WHL | 70 | 32 | 29 | 9 | 226 | 214 | 73 | 3rd Overall | Lost Quarter Final |
| 1954-55 | WHL | 70 | 19 | 41 | 11 | 207 | 273 | 49 | 6th Overall | out of playoffs |
| 1955-56 | WHL | 70 | 27 | 35 | 8 | 208 | 249 | 2 | 3rd Prairie | Lost Quarter Final |
| | | | | | | | | | | |
| 1958-59 | WHL | 64 | 29 | 31 | 4 | 208 | 201 | 62 | 4th Prairie | out of playoffs |
Saskatchewan Senior Hockey League
Edit
Season
Games
Won
Lost
Tied
Points
Goals
for
Goals
against
Standing
Playoffs
1960-61
32
10
22
0
20
149
188
4th
Lost Semi Final
1961-62
32
23
7
2
48
167
108
1st
Won Final Lost Western Final
1962-63
39
26
13
0
52
-
-
1st
Won Final Lost Western Final
1963-64
40
27
12
1
55
-
-
1st
Won Final Lost Western Final
1964-65
37
21
15
1
43
201
173
2nd
Lost Semi Final
Season
Games
Won
Lost
Tied
Points
Goals
for
Goals
against
Standing
Playoffs
1965-66
30
19
10
1
39
175
108
2nd
Lost Final
1966-67
34
15
18
1
31
-
-
6th
Lost Final
1967-68
38
18
17
3
39
143
152
2nd
Won Final Lost Western Final
Season
Games
Won
Lost
Tied
Points
Goals
for
Goals
against
Standing
Playoffs
1968-69
29
10
17
2
22
-
-
3rd
Lost Semi Final
1969-70
34
15
18
1
31
161
179
3rd
Lost Semi Final
1970-71
45
28
15
2
58
268
165
1st
Lost Semi Final
Season
Games
Won
Lost
Tied
Points
Goals
for
Goals
against
Standing
Playoffs
1971-72
42
24
16
2
45
199
169
2nd
Withdrew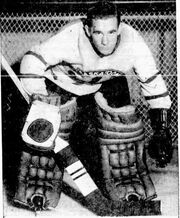 Quakers who played in the NHLEdit