Overview Edit
"Huskies" is the name of the sports teams of the University of Saskatchewan which is located in Saskatoon, Saskatchewan. Their home ice is the Rutherford Arena. They are members of the Canada West Universities Athletic Association (CWUAA) and Canadian Interuniversity Sport (CIS), now known as U Sports.


The U of S started play in the senior and intermediate series of Saskatchewan. As was customary in that period, they continued doing so after university play had started. They did not win any national titles in that early era but did get to the 1923 Allan Cup final, where they lost to the Toronto Granites. The winner of that series was to be Canada's rep at the 1924 Olympics.
In 1918-19 the University of Saskatchewan and the University of Alberta played in an exhibition series which led to the formation of the Western Canadian Intercollegiate Athletic Union (WCIAU) the following season.
The U of S has iced a hockey team in every western university hockey season from the beginning in 1919-20.
In 1962-63 the WCIAU changed its name to the Western Canadian Intercollegiate Athletic Association (WCIAA, or WIAA). The Canadian Intercollegiate Athletic Union (as it then was) started the University Cup in 1963.
When the WCIAA split in two following the 1971-72 season, the University of Saskatchewan became a founding member of the CWUAA, along with the University of British Columbia, University of Victoria, University of Calgary, and University of Alberta. Victoria has since departed and a GPAC merger and new programs have added new CWUAA opponents at the University of Manitoba, the University of Regina, University of Lethbridge, and Mount Royal University.
Senior/Intermediate Seasons
Edit
Note: These are only the seasons for which records are available in Wikia.
Season-by-Season Records TableEdit
WCIAU/Senior: 1918-19 to 1939-40Edit
WCIAU/WCIAA: 1945-46 to 1971-72Edit
CWUAA/GPAC Split Era: 1972-73 to 1984-85Edit
CWUAA Unified Era: 1985-86 to presentEdit
∆ Qualified for University Cup in 1967, 1981, 1982, 1983, 1987, 1999, 2000, 2007, 2012, and 2016 as conference champion, in 2005 and 2006 as substitute host, in 2002 and 2008 as national rotating wild-card, in 1998, 2013 and 2014 as host, and in 2017 and 2018 as conference runner-up.
Notes:
The WCIAA played a two division format in 1971-72: West (W) and East (E).
The GPAC merged into the CWUAA in 1985-86.
The CWUAA played a two division format from 1996-97 to 2006-07: Mountain (M) and Great Plains (GP).
CommemorationsEdit
ChampionshipsEdit
INTERMEDIATE
UNIVERSITY
WCIAU: 1921, 1923, 1927, 1928, 1930, 1952, 1953, 1959
CWUAA: 1981, 1982, 1983, 1987, 1998, 1999, 2000, 2007, 2012, 2016
University Cup: 1983

NOTE: This external link claims that the 1923 Huskies won the 1923 Saskatoon, Northern Saskatchewan, and Saskatchewan titles. Hockey Gods


University CupsEdit
International ExhibitionsEdit
Dec. 15, 2009: Sask./Regina 4, Team Canada Juniors 2 Faceoff Story
Dec. 22, 2009: Saskatchewan 6 Team Slovakia Juniors 2 U of S Story
Huskies who played in the NHLEdit
Alternate Logos
Edit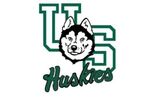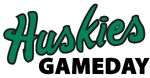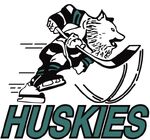 Current TeamsEdit
Former TeamsEdit
CW Teams in Other LeaguesEdit
National links:
Western links:
Atlantic links:
Ontario-Quebec links:
College links: