Ad blocker interference detected!
Wikia is a free-to-use site that makes money from advertising. We have a modified experience for viewers using ad blockers

Wikia is not accessible if you've made further modifications. Remove the custom ad blocker rule(s) and the page will load as expected.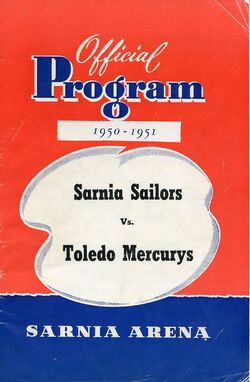 The Sarnia Sailors were a senior team.
They started play at the Senior B level in 1947-48 when they won the provincial title. Thta was followed by two more good seasons at that level. They also played two seasons in the International Hockey League (1945-2001).
After they made it all the way to the Senior A final in 1950-51, it was decided to give the Senior A level a try. That was a bad mistake. In two full seasons (1951-52 & 1952-53) the Sailors finished in sixth place and out of the playoffs. It was no surprise that they dropped out during the 1953-54 season.
The Sailors carried on for a few more seasons at the Senior B level with some success before finally folding.
Season-by-Season Results
Edit
Season
Games
Won
Lost
Tied
Points
Goals
for
Goals
against
Standing
Playoffs
1949-50
40
26
11
3
55
219
136
1st
Lost Final
1950-51
52
24
19
9
59
226
191
4th
Lost Semi Final
Season
Games
Won
Lost
Tied
Points
Goals
for
Goals
against
Standing
Playoffs
1950-51
5
3
1
1
7
20
11
1st Group
Lost Final
1951-52
50
18
29
3
39
183
225
6th
out of playoffs
1952-53
48
20
27
1
41
177
215
6th
out of playoffs
1953-54
28
4
21
3
11
-
-
-
Dropped out Dec. 12
Season
Games
Won
Lost
Tied
Points
Goals
for
Goals
against
Standing
Playoffs
1954-55
36
22
10
4
48
-
-
2nd West
Won Group Final, Lost Final
1955-56
30
8
19
3
19
-
-
6th West
Lost Quarter Final
1957-58
30
13
16
1
27
107
126
5th West
out of playoffs