Ad blocker interference detected!
Wikia is a free-to-use site that makes money from advertising. We have a modified experience for viewers using ad blockers

Wikia is not accessible if you've made further modifications. Remove the custom ad blocker rule(s) and the page will load as expected.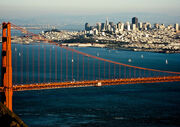 San Francisco is a city in northern California, United States. The city has a population of over 800,000 and the San Francisco Bay Area has a population of over 7,400,000.
The area has had two NHL teams - the defunct Oakland Seals in Oakland and the San Jose Sharks of San Jose.
(California Hockey League, 1928-1929)
(Western Hockey League (minor pro), 1961-1966) renamed California Seals when relocate to Oakland
(Pacific Coast Hockey League, 1944-1950) folded
(Pacific Hockey League, 1977-1979) fold during season
Embarcadero Center Holiday Ice Rink
Yerba Buena Ice Skating & Bowling Center
External Links
Edit