This article is about the team in the World Hockey Association. For the team that played in the Pacific Hockey League please see San Diego Mariners (PHL).
The San Diego Mariners were an ice hockey team based out of San Diego that played in the World Hockey Association. They played from 1974 to 1977. Their home ice was San Diego Sports Arena. Previous to being in San Diego, the team was known as the New York Raiders, New York Golden Blades, and New Jersey Knights.
Star players for the Mariners included defenseman Harry Howell, center André Lacroix, and goaltender Ernie Wakely. The Mariners were coached by Howell (as player/coach) during their first season and Ron Ingram the succeeding two seasons, qualifying for the WHA playoffs each year.
During the Mariners' final season, the team was owned by the then-owner of the San Diego Padres and McDonald's Ray Kroc.
Season-by-season record
Edit
Note: GP = Games played, W = Wins, L = Losses, T = Ties, Pts = Points, GF = Goals for, GA = Goals against, PIM = Penalties in minutes
Mariners' season-by-season record
Season
GP
W
L
T
Pts
GF
GA
PIM
Finish
Playoffs
1974–75
78
43
31
4
90
326
268
1058
2nd, Western
Won Quarterfinals (Toronto)
Lost Semifinals (Houston)
1975–76
80
36
38
6
78
303
290
716
3rd, Western
Won Preliminaries (Phoenix)
Lost Quarterfinals (Houston)
1976–77
81
40
37
4
84
284
283
834
3rd, Western
Lost Quarterfinals (Winnipeg)
Totals
239
119
106
14
252
913
841
2608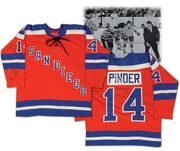 Ad blocker interference detected!
Wikia is a free-to-use site that makes money from advertising. We have a modified experience for viewers using ad blockers

Wikia is not accessible if you've made further modifications. Remove the custom ad blocker rule(s) and the page will load as expected.