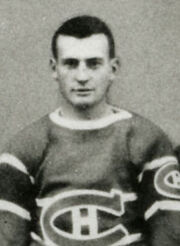 Joseph Ozomer "Sammy" Godin (born September 20, 1907, date of death unknown) was a professional ice hockey player who played 66 games in the National Hockey League. He would play with the Ottawa Senators and Montreal Canadiens. He was born in Rockland, Ontario.
External links
Edit
Ad blocker interference detected!
Wikia is a free-to-use site that makes money from advertising. We have a modified experience for viewers using ad blockers

Wikia is not accessible if you've made further modifications. Remove the custom ad blocker rule(s) and the page will load as expected.