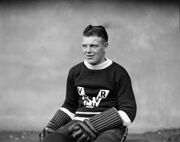 Sam McAdam (born May 31, 1908, date of death unknown) was a Canadian professional ice hockey forward who played 5 games in the National Hockey League for the New York Rangers in 1930-31. He was a decent goal scorer who enjoyed a lengthy career in the minors, especially the Pacific Coast Hockey League. He was born in Stirling, Scotland.
He played junior and senior hockey in Winnipeg from 1924 to 1928. In 1928-29 McAdam turned pro with the Vancouver Lions and played with them until January, 1931, when his rights were sold to the New York Rangers for $5,000.
He played five games with the Rangers in 1930-31, going scoreless. McAdam finished the season with the Detroit Olympics and played in 1931-32 for the Springfield Indians.
In 1932 McAdam returned to western North America and played in the Pacific Coast Hockey League and the North West Hockey League until 1941. He then played three seasons of senior hockey in British Columbia and retired in 1944.
Awards and achievements
Edit
NWHL Second All-Star Team (1935)
External links
Edit
Ad blocker interference detected!
Wikia is a free-to-use site that makes money from advertising. We have a modified experience for viewers using ad blockers

Wikia is not accessible if you've made further modifications. Remove the custom ad blocker rule(s) and the page will load as expected.