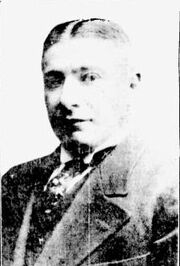 Samuel "Sam" Edward Lichtenhein (October 24. 1870 – June 21, 1936) was the owner and president of the Montreal Wanderers of the National Hockey Association, later National Hockey League.
Lichtenhein was born in Chicago, Illinois, and moved to Montreal as a child. He became a successful businessman in Montreal, and bought two sports teams, the Montreal Royals base ball team, which upon its revival became the Brooklyn Dodgers' principal farm team, and the Wanderers. When Lichtenhein took over the Wanderers, the team was in financial trouble. He had trouble icing a team, and in 1918, the Montreal Arena, home of Wanderers' and the Montreal Canadiens, burnt down, the team folded. The decision was influenced by Lictenhein citing losses over $30,000 in 1918 money due to the fire.
Lichtenhein was essential in changing ice hockey from a seven-man to a six-man game. The change was proposed at a meeting of the National Hockey Association; to pass, it required the approval of every owner. Initially, Lictenhein was opposed to the move. He was convinced to agree to change after a fellow owner pointed out that he would have to pay one less salary. He also led the campaign to kick Eddie Livingstone and his Toronto Blueshirts out of the National Hockey Association for "unethical business practices".
Lichtenhein is also known for being unlucky with fires, which destroyed the arenas of two of his sports teams, one of his father's and one of his businesses. One of his father's department stores were destroyed in the 1871 Great Chicago Fire, after which the family moved to Montreal, Quebec. The Wanderers' arena, the Montreal Arena, burnt down in 1918. Another fire destroyed Lictenhein's baseball stadium, and another fire destroyed another one of his businesses.
External links
Edit
Ad blocker interference detected!
Wikia is a free-to-use site that makes money from advertising. We have a modified experience for viewers using ad blockers

Wikia is not accessible if you've made further modifications. Remove the custom ad blocker rule(s) and the page will load as expected.