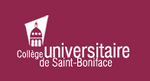 "Les Rouges" is the name of the sports teams of Saint-Boniface University, formerly known as College Universitaire du Saint-Boniface (CUSB), located in Winnipeg, Manitoba. Until 2012-13 the teams were known as the "Voyageurs". Its teams compete in the Manitoba Colleges Athletic Conference (MCAC). The league's final hockey season was in 2009-10.
The CUSB Voyageurs only competed in hockey in the 2009-10 season, posting a record of 0-7-0.
Ad blocker interference detected!
Wikia is a free-to-use site that makes money from advertising. We have a modified experience for viewers using ad blockers

Wikia is not accessible if you've made further modifications. Remove the custom ad blocker rule(s) and the page will load as expected.