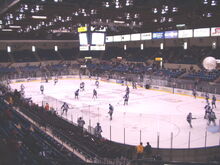 The Saginaw Spirit is a junior ice hockey team based in Saginaw, Michigan. They are members of the West Division of the Western Conference of the Ontario Hockey League (OHL), one of the leagues of the Canadian Hockey League (CHL).
The Saginaw Spirit were born when Dick Garber, the owner of several local automobile dealerships, purchased the North Bay Centennials and moved the team to Saginaw after the 2001–02 season, renaming it the Saginaw Spirit.
The team traces its roots back to St. Catharines, Ontario, where it played as the Falcons, Teepees, and Black Hawks from 1943–1976. It won two Memorial Cup championships as the Teepees, in 1954 and 1960. In 1976, the franchise moved to nearby Niagara Falls, where it was known as the Flyers. In 1982, the team was moved again, this time to North Bay, and renamed the Centennials, where it remained until moving to Saginaw in 2002.
The Spirit have done extensive promotions in the Mid-Michigan area, increasing their fan base and season ticket-holder numbers. The Spirit have one of the highest attendance rates in the Ontario Hockey League.
After three rebuilding seasons the Spirit clinched their first playoff berth on March 2, 2006, but lost in the first round to the Guelph Storm. They made the playoffs the following two seasons, but lost to the division rival Sault Ste. Marie Greyhounds both times, in six games in 2007 and in four games in 2008. In 2009, the Spirit won their first playoff series since relocating to Saginaw, sweeping Guelph in four games. They were then swept in the second round by the London Knights.
The first coach in Saginaw Spirit history was Dennis Desrosiers. He was well known to local fans, with many years of hockey experience in Michigan. As a player he spent 10 years for the Saginaw Gears (IHL), and spent time coaching the Flint Generals, Saginaw Generals & Kalamazoo Wings all in Michigan. In total, there have been four coaches in Saginaw Spirit history to date.
List of coaches. Numbers of seasons in parentheses.
See complete list of all List of Saginaw Spirit alumni.
Award winners
Edit
NHL alumni
Edit
Since 2002 the Saginaw Spirit have graduated eight players who have played in the National Hockey League.
Current squad
Edit
Roster updated as of June 1st, 2010
Goaltenders
Number
Player
Glove
Acquired
NHL Draft
Place of birth
1
Tadeas Galansky
L
Saginaw Spirit 2009
2010
Czech Republic
80
Edward Pasquale O/A
L
Trade BLV 2007
ATL 2009
Toronto, Ontario
Defensemen
Number
Player
Shoots
Acquired
NHL Draft
Place of birth
Matt Ashman O/A
R
Trade LON 2010
Undrafted
London, Ontario
2
Brad Walch
L
Saginaw Spirit 2007
Undrafted
Saginaw, Michigan
14
Alex Lepkowski
L
Saginaw Spirit 2009
2011
West Seneca, New York
17
Joe Underwood O/A
R
Trade GUE 2007
Undrafted
Canton, Michigan
21
Ryan O'Connor
R
Trade BAR 2009
2010
Hamilton, Ontario
27
Frank Schumacher
L
Saginaw Spirit 2009
2012
Brighton, Michigan
41
Cody Sol
L
Saginaw Spirit 2007
ATL 2009
Woodstock, Ontario
44
Matt Braun
R
Saginaw Spirit 2008
2010
Mississauga, Ontario
70
Peter Hermengildo
R
Trade SUD 2009
Undrafted
Thornhill, Ontario
77
Dalton Young
Free Agent 2010
2011
Marysville, Michigan
Forwards
Number
Player
Shoots
Position
Acquired
NHL Draft
Place of birth
5
Garrett Ross
L
LW
Free Agent 2009
2010
Dearborn, Michigan
9
Sloan Stewart
R
RW
Saginaw Spirit 2007
Undrafted
Guelph, Ontario
14
Jordan Szwarz - A
R
RW
Saginaw Spirit 2007
PHX 2009
Burlington, Ontario
15
Anthony Camara
L
LW
Saginaw Spirit 2009
2011
Toronto, Ontario
19
Michael Kantor
R
RW
Free Agent 2010
2010
Lake Forest, Illinois
20
Mitch Fillman
R
RW
Free Agent 2007
Undrafted
Oakville, Ontario
22
Dylan Fitze
R
RW
Saginaw Spirit 2008
2011
Peterborough, Ontario
24
Ivan Telegin
L
C
Saginaw Spirit 2009
2010
Novokuznetsk, Russia
25
Josh Shalla
L
LW
Trade GUE 2009
2010
Whitby, Ontario
67
Barry Sanderson O/A
R
C
Trade NIA 2008
Undrafted
Dearborn, Michigan
89
Vincent Trocheck
R
C
Saginaw Spirit 2009
2011
Pittsburgh, Pennsylvania
93
Michael Sgarbossa
L
C
Trade BAR 2009
2010
Campbellville, Ontario
Team records
Edit
Team records for a single season
Statistic
Total
Season
Most points
91
2006–07
Most wins
44
2006–07
Most goals for
291
2006–07
Least goals for
150
2004–05
Least goals against
217
2006–07
Most goals against
275
2002–03
Season-by-season results
Edit
Regular season
Edit
Legend: OTL = Overtime loss, SL = Shootout loss
Season
Games
Won
Lost
Tied
OTL
SL
Points
Pct %
Goals
For
Goals
Against
Standing
2002–03
68
11
45
5
7
–
34
0.250
158
275
5th West
2003–04
68
16
45
3
4
–
39
0.287
161
228
5th West
2004–05
68
18
42
4
4
–
44
0.324
150
260
4th West
2005–06
68
36
30
–
2
0
74
0.544
242
246
2nd West
2006–07
68
44
21
–
0
3
91
0.669
291
217
2nd West
2007–08
68
33
25
–
8
2
76
0.559
234
231
4th West
2008–09
68
36
24
–
4
4
80
0.588
235
219
2nd West
2009–10
68
34
27
–
4
3
75
0.551
240
230
4th West
2002–03 Out of playoffs.
2003–04 Out of playoffs.
2004–05 Out of playoffs.
2005–06 Lost to Guelph Storm 4 games to 0 in conference quarter-finals.
2006–07 Lost to Sault Ste. Marie Greyhounds 4 games to 2 in conference quarter-finals.
2007–08 Lost to Sault Ste. Marie Greyhounds 4 games to 0 in conference quarter-finals.
2008–09 Defeated Guelph Storm 4 games to 0 in conference quarter-finals.
Lost to London Knights 4 games to 0 in conference semi-finals.
2009–10 Lost to Kitchener Rangers 4 games to 2 in conference quarter-finals.
Uniforms and logos
Edit
The Saginaw Spirit logo depicts an American bald eagle with the colors of the Stars and Stripes along its neck, on the words "Saginaw Spirit." The uniform scheme is similar to that previously used by the U.S.A. national team. The home jerseys are white backgrounds with navy blue sleeves and red trim. The away jerseys are navy blue backgrounds with red sleeves and white trim. The Saginaw third jersey has a red background with navy blue sleeves and white trim, bearing across the chest the word "Saginaw" spelled diagonally downwards from left to right.
Saginaw's main mascot is "Sammy Spirit," resembling an American bald eagle. The team held a vote on their website to name a new secondary mascot for the 2006–07 season. The mascot was named[1] Steagle Colbeagle the Eagle after Stephen Colbert. Colbert had promoted the contest on his show, The Colbert Report. After naming the mascot after Colbert, the Spirit won seven straight games before losing to the Sarnia Sting on October 20. Since then, The Colbert Report has featured ongoing comedy sketches related to the team, the mascot, and other teams in the Ontario Hockey League, especially the Oshawa Generals, and Oshawa, Ontario mayor John Gray.[2]
The Spirit play at Wendler Arena (capacity 5,527), which is part of The Dow Event Center complex in downtown Saginaw. The OHL All-Star Classic was hosted here in 2007. This was the first time in history that the OHL All-Star Game was hosted in an American city. The Arena was formerly home to the Saginaw Gears, Saginaw Generals, Saginaw Hawks, Saginaw Wheels and the Saginaw Lumber Kings.
Capacity = 5,527
Ice size = 192' x 85'
Mid Michigan Spirit
Edit
The Saginaw Spirit in partnership with Meijer food stores sponsor the Mid Michigan Spirit, a women's hockey club based out of Midland, Michigan. The 16U team took second at the MAHA state tournament during the 2006-2007 season. A 16U team moved up to 19U for the 2007-2008 season and once again took second at the MAHA state tournament in Canton, Michigan on March 9, 2008.
References
Edit
↑ Spirit on the Colbert Report Tonight. Saginaw Spirit (2006-10-03). Retrieved on 2007-02-01.
↑ Sunaya Sapurji (2007-02-01). The Steagle has landed. Toronto Star. Retrieved on 2007-02-01.
External links
Edit