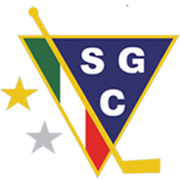 SG Cortina
Founded
1924
Home ice
Stadio Olimpico del Ghiaccio
(cap: 2700)
Based in
Cortina d'Ampezzo, Italy
Colours
Azure and White
League
Serie A
Sportivi Ghiaccio Cortina is an ice hockey team from Italy. They play their home games at Stadio Olimpico del Ghiaccio, located in Cortina d'Ampezzo, Veneto. They currently plays in the highest level of italian ice hockey, the Serie A.
Achievements
Edit
Serie A:

Winners (16) : 1932, 1957, 1959, 1961, 1962, 1964, 1965, 1966, 1967, 1968, 1970, 1971, 1972, 1974, 1975, 2007
Italian Cup (Ice Hockey):
Notable Players
Edit



External links
Edit
Ad blocker interference detected!
Wikia is a free-to-use site that makes money from advertising. We have a modified experience for viewers using ad blockers

Wikia is not accessible if you've made further modifications. Remove the custom ad blocker rule(s) and the page will load as expected.