Ad blocker interference detected!
Wikia is a free-to-use site that makes money from advertising. We have a modified experience for viewers using ad blockers

Wikia is not accessible if you've made further modifications. Remove the custom ad blocker rule(s) and the page will load as expected.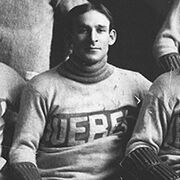 Samuel Russell "Rusty" Crawford (November 7, 1885 – December 19, 1971) was a Canadian professional forward who played 2 seasons in the National Hockey League for the Ottawa Senators and Toronto Arenas, and four seasons in the Western Canada Hockey League for the Calgary Tigers, Saskatoon Crescents and Vancouver Maroons. He was born in Cardinal, Ontario, Canada.
Playing career
Edit
Crawford started out in senior hockey in Montreal in 1907-08 before moving out to Saskatchewan to play from 1909-10 to 1911-12.
He helped lead the Bulldogs to a Stanley Cup victory in 1912–13 (prior to the formation of the NHL). He won his second Stanley Cup as a member of the 1917–18 Toronto Arenas.
Crawford then played with the senior Saskatoon Crescents for two seasons before playing four seasons in the Western Canada Hockey League. Crawford then finished off his career with four seasons with the Minneapolis Millers of the American Hockey Association. He retired in 1930.
In 1930-31 he was the coach of the senior Prince Albert Mintos.
Crawford was inducted into the Hockey Hall of Fame in 1962.
Awards & achievements
Edit
Career statistics
Edit
 
 
Regular Season
 
Playoffs
Season
Team
League
GP
G
A
Pts
PIM
GP
G
A
Pts
PIM
1917–18
Ottawa
NHL
20
44
0
44
12
--
--
--
--
--
1918–19
Montreal
NHL
11
1
0
1
9
--
--
--
--
--
1917–18
Toronto
NHL
9
2
0
2
51
--
--
--
--
--
1918–19
Toronto
NHL
18
7
3
10
51
--
--
--
--
--
1922–23
Calgary Tigers
WCHL
11
3
1
4
7
--
--
--
--
--
1922–23
Saskatoon Crescents
WCHL
19
7
6
13
10
--
--
--
--
--
1923–24
Calgary
WCHL
26
4
4
8
21
--
--
--
--
--
1924–25
Calgary
WCHL
27
12
2
14
27
--
--
--
--
--
1925–26
Vancouver Maroons
WHL
14
0
0
0
8
--
--
--
--
--
1926–27
Minneapolis Millers
AHA
32
2
3
5
51
--
--
--
--
--
1927–28
Minneapolis
AHA
34
4
2
6
27
--
--
--
--
--
1928–29
Minneapolis
AHA
40
3
9
12
33
--
--
--
--
--
1929–30
Minneapolis
AHA
46
4
5
9
34
--
--
--
--
--
NHL Totals
38
10
3
13
111
--
--
--
--
--
WCHL Totals
97
26
13
39
73
--
--
--
--
--