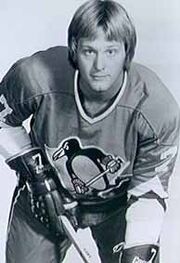 Russ Anderson (born February 12, 1955 in Des Moines, Iowa) is a retired professional defenseman who played 519 games in the National Hockey League between 1976 and 1985. He played for the Pittsburgh Penguins, Hartford Whalers, and Los Angeles Kings. He was also a member of the United States national team at the 1977 Ice Hockey World Championships.
He was on the Minnesota Golden Gophers team that won the NCAA championship in 1975-76.
Anderson was a tough, defensive defenceman who got a lot of penalties and some major injuries. He did manage to play 519 NHL games and score 22 goals and 99 assists. He retired in 1985.
External links
Edit
Ad blocker interference detected!
Wikia is a free-to-use site that makes money from advertising. We have a modified experience for viewers using ad blockers

Wikia is not accessible if you've made further modifications. Remove the custom ad blocker rule(s) and the page will load as expected.