Ad blocker interference detected!
Wikia is a free-to-use site that makes money from advertising. We have a modified experience for viewers using ad blockers

Wikia is not accessible if you've made further modifications. Remove the custom ad blocker rule(s) and the page will load as expected.
Roxanne Douville
Position
Goaltender
Catches
Left
Height
Weight
5 ft 5 in (1.65 m)
133 lb (60 kg)
ECAC Team
Vermont Catamounts
Born
May 23 1991
Beloeil, Quebec
,
Pro Career
2010 – present
Playing career
Edit
She played for the Collège Édouard-Montpetit in Québec. She was named the Collégial AA top goaltender in 2008-09 and helped lead the school to the Collègial AA championship. During the 2009-10 campaign, Douville led the Collègial AA in Goals Against Average. In addition, she led the school to the regular season and playoff titles. Douville was a Montreal Canadiens scholarship holder in 2010 from the Quebec Foundation for Athletic Excellence.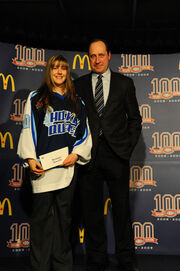 Roxanne Douville led the Catamounts to a 0-3-4 record in the month of November 2010 with a 1.64 GAA and .943 save percentage. She amassed 200 saves in the month and recorded 30+ saves four times in the month, which included a 42-save effort against Clarkson on November 27. Douville was named Pro Ambitions Rookie of the Week three times in the month.
Hockey Canada
Edit
December 14: Hockey Canada announced that Roxanne Douville has been added to the roster of Canada's National Women's Under-22 Team for the 2011 MLP Cup. Douville is replacing Cornell goaltender Amanda Mazzotta who is injured and unable to participate.[2]
Awards and honors
Edit
Collégial AA top goaltender in 2008-09
Roxanne Douville, Hockey East Pro Ambitions Rookie of the Week (Week of November 1)
Roxanne Douville, Hockey East Pro Ambitions Rookie of the Week (Week of November 8)
Roxanne Douville, Hockey East Pro Ambitions Rookie of the Week, (Week of November 15) [3]
Roxanne Douville, Hockey East Co-Rookie of the Month, November 2010[4]
2010-11 Hockey East All-Rookie team[5]
Hockey East Co-Defensive Player of the Week (Week of February 20, 2012)[6]
Career stats
Edit
Hockey Canada
Edit
| | | | | | | | |
| --- | --- | --- | --- | --- | --- | --- | --- |
| Year | Event | GP | MIN | W | L | T | GAA |
| 2007 | National U18 championships | 4 | 240 | 3 | 1 | 0 | 1.75 |
| 2008 | National U18 championships | 4 | 267 | 3 | 1 | 0 | 2.47 |
| 2008 | U18 vs. USA (exhibition) | 2 | 91 | 1 | 1 | 0 | 2.63 |
| 2009 | IIHF U18 world championships | 3 | 187 | 2 | 1 | 0 | 1.28 |
| 2011 | MLP Cup | 4 | 120 | 2 | 0 | 0 | 0.00 |
References
Edit