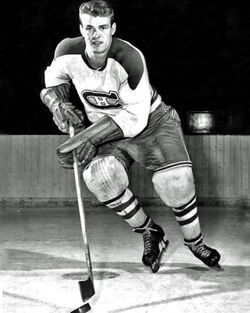 Ross Robert Lowe (September 21, 1928 in Oshawa, Ontario, Canada – August 8, 1955) was a professional ice hockey player who played three seasons in the National Hockey League from 1949 to 1952 for the Boston Bruins and Montreal Canadiens.
He played three seasons for the junior Oshawa Generals from 1944-48.
Lowe played 77 career NHL games, scroring six goals and eight assists for fourteen points. In his last professional season (1954-55), he played for the Springfield Indians of the American Hockey League and managed to score 82 points in only 60 games, which earned him the Les Cunningham Award as league MVP. Lowe drowned that off-season in Lake Haliburton while vacationing with his family.
Ad blocker interference detected!
Wikia is a free-to-use site that makes money from advertising. We have a modified experience for viewers using ad blockers

Wikia is not accessible if you've made further modifications. Remove the custom ad blocker rule(s) and the page will load as expected.