Ad blocker interference detected!
Wikia is a free-to-use site that makes money from advertising. We have a modified experience for viewers using ad blockers

Wikia is not accessible if you've made further modifications. Remove the custom ad blocker rule(s) and the page will load as expected.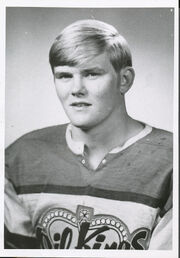 Ron Perry Jones (born April 11, 1951 in Vermilion, Alberta) is a retired Canadian ice hockey defenceman.
Selected by the Boston Bruins 6th overall in the 1971 NHL Entry Draft, Jones played for the Bruins, Pittsburgh Penguins, and Washington Capitals.
Career statistics
Edit

                                            --- Regular Season ---  ---- Playoffs ----
Season   Team                        Lge    GP    G    A  Pts  PIM  GP   G   A Pts PIM
--------------------------------------------------------------------------------------
1969-70  Edmonton Oil Kings          WCHL    0    0    0    0    0  --  --  --  --  --
1970-71  Edmonton Oil Kings          WCHL   63   11   40   51   46  --  --  --  --  --
1971-72  Boston Braves               AHL    74    6   11   17   36   9   0   0   0   7
1971-72  Boston Bruins               NHL     1    0    0    0    0  --  --  --  --  --
1972-73  Boston Braves               AHL    55    3   25   28   34   5   0   1   1   2
1972-73  Boston Bruins               NHL     7    0    0    0    2  --  --  --  --  --
1973-74  Hershey Bears               AHL    34    0   12   12   23  14   0   3   3   6
1973-74  Pittsburgh Penguins         NHL    25    0    3    3   15  --  --  --  --  --
1974-75  Hershey Bears               AHL    25    0    6    6   37  --  --  --  --  --
1974-75  Washington Capitals         NHL    19    1    1    2   16  --  --  --  --  --
1975-76  Hershey Bears               AHL    53    7   23   30   34  10   1   5   6   9
1975-76  Richmond Robins             AHL    20    0    7    7    8  --  --  --  --  --
1975-76  Washington Capitals         NHL     2    0    0    0    0  --  --  --  --  --
1976-77  Hershey Bears               AHL    36    0    9    9   18   6   0   3   3   4
--------------------------------------------------------------------------------------
         NHL Totals                         54    1    4    5   33

External links
Edit