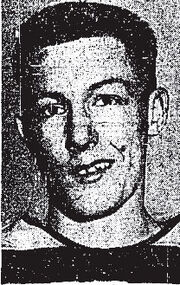 Ron Hurst (born May 18, 1931 in Toronto, Ontario) is a professional ice hockey player who played 64 games in the National Hockey League. He played with the Toronto Maple Leafs.
He played junior hockey for the Weston Dukes and Toronto Marlboros from 1946 to 1951. After, he played senior hockey for the Saint John Beavers, Charlottetown Islanders, Ottawa Senators, and the Sault Ste. Marie Greyhounds until 1955.
In 1955-56 he turned pro with the Toronto Maple Leafs and scored 7 goals and 5 assists in 50 games. The next season he played in only 14 Leafs games with 2 goals and 2 assists.
Hurst finished off his career in the American Hockey League and retired in 1960.
References
Edit
Ad blocker interference detected!
Wikia is a free-to-use site that makes money from advertising. We have a modified experience for viewers using ad blockers

Wikia is not accessible if you've made further modifications. Remove the custom ad blocker rule(s) and the page will load as expected.