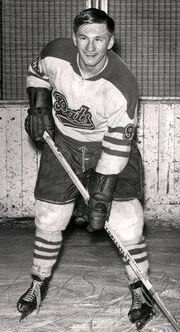 Ron Garwasiuk (Born Feb 17 1949 in St. Paul, Alberta) is a retired hockey left winger. He played 51 games in the World Hockey Association for the Los Angeles Sharks.
He played junior hockey for the Regina Pats from 1967 to 1969. The Detroit Red Wings picked him 21st overall in the 1969 NHL Amateur Draft. The Wings assigned him to their Farm team the Fort Worth Wings.
From 1970 to 1973 Garwasiuk played for the Providence Reds of the American Hockey League (AHL). After playing for the Sharks in 1973-74, scoring 6 goals and 13 assists in 51 games, Garwasiuk joined the AHL's Rochester Americans. He played for them until his retirement in 1980.
Ad blocker interference detected!
Wikia is a free-to-use site that makes money from advertising. We have a modified experience for viewers using ad blockers

Wikia is not accessible if you've made further modifications. Remove the custom ad blocker rule(s) and the page will load as expected.