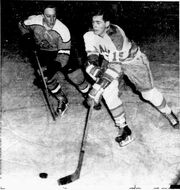 Ron Fairbrother (born October 5, 1949, in Saskatoon, Saskatchewan) is a retired Canadian left winger.
He played junior hockey for the Saskatoon Blades from 1967 to 1969, winning the Jim Piggott Memorial Trophy as top rookie in 1967-68. The Boston Bruins chose him 46th overall in the 1969 NHL Amateur Draft.
In 1969-70 Fairbrother turned pro with the Oklahoma City Blazers. After that one season he returned to Saskatoon to play with the senior Saskatoon Quakers. He retired in 1971 to become a teacher.
Ad blocker interference detected!
Wikia is a free-to-use site that makes money from advertising. We have a modified experience for viewers using ad blockers

Wikia is not accessible if you've made further modifications. Remove the custom ad blocker rule(s) and the page will load as expected.