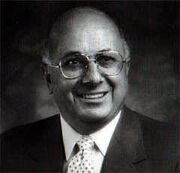 Ronald "Ron" Caron (b: December 19, 1929 ) is a Canadian former executive in the NHL for the Montreal Canadiens and St. Louis Blues.
Hockey career
Edit
He was the GM of the St. Louis Blues from 1983 until 1993. During his tenure, he was involved in bringing players like Doug Gilmour, Brett Hull, and Adam Oates to St. Louis. Before he was hired by St. Louis, he worked for the Montreal Canadiens. He won six Stanley Cup rings with Montreal during the 1970s as the assistant general manager. He was nicknamed The Old Professor for his remarkable memory of hockey events.
Stanley Cup Champions 1971, 1973, 1976, 1977, 1978, 1979
External links
Edit
Ad blocker interference detected!
Wikia is a free-to-use site that makes money from advertising. We have a modified experience for viewers using ad blockers

Wikia is not accessible if you've made further modifications. Remove the custom ad blocker rule(s) and the page will load as expected.