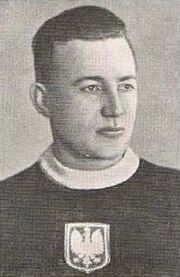 Roman Zdzisław Jerzy Sabiński (December 28, 1908 – June 28, 1978) was a Polish ice hockey player who competed in the 1932 Winter Olympics.
He was born in Lviv, Poland (then Lemberg, Austro-Hungarian Empire).
In 1932 he was a member of the Polish ice hockey team which finished fourth in the Olympic tournament. He played all six matches.
External links
Edit