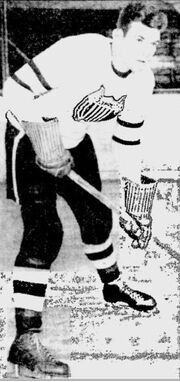 Orville William "Rolly" Roulston (born in Toronto, Ontario on April 12, 1911 – April 24, 1983) was a Canadian professional ice hockey defenceman. He played 24 games in the National Hockey League for the Detroit Red Wings in three separate seasons (1935-36, 1936-37, & 1937-38). He scored 6 assists.
Roulston missed most of the 1936-37 season due to an injury, but his name was still engraved on the Stanley Cup as a member of the Red Wings.
External links
Edit
Ad blocker interference detected!
Wikia is a free-to-use site that makes money from advertising. We have a modified experience for viewers using ad blockers

Wikia is not accessible if you've made further modifications. Remove the custom ad blocker rule(s) and the page will load as expected.