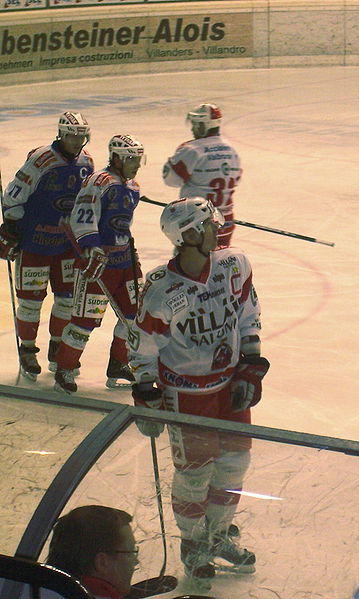 Roland Ramoser (born September 3, 1972 in Bolzano, Italy) is an Italian winger.
He played for Italy's team in the 1989 and 1990 World Junior Championships. He played for the Hull Olympiques in 1990-91 and the Kamloops Blazers in 1991-92.
In 1992 Ramoser returned to Italy and won the national championship with Milan in 1992-93 and 1993-94 and with HC Bolzano in 1994-95. From 1996 to 2000 he played in the Deutsche Eishockey Liga for the Nürnberg Ice Tigers and the Kassel Huskies.
In 2000 he returned to Italy's Serie A to play two seasons for the Renon Ritten Sport Hockey and then on to HC Bolzano. He won the Italian championships with Bolzano in 2008 & 2009.
He played for Italy in the 1994 Olympics and in every subsequent World Championship except for 2006, which he missed because of injury.
Ad blocker interference detected!
Wikia is a free-to-use site that makes money from advertising. We have a modified experience for viewers using ad blockers

Wikia is not accessible if you've made further modifications. Remove the custom ad blocker rule(s) and the page will load as expected.