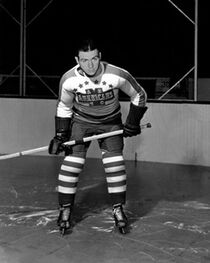 Roger Joseph Jenkins (November 18, 1911–March 4 1994) was a professional player who played 327 games in the National Hockey League. He was born in Appleton, Wisconsin. He played for the Toronto Maple Leafs, New York Americans, Montreal Canadiens, Montreal Maroons, Boston Bruins, and Chicago Black Hawks. Roger won the Stanley Cup in 1934 and 1938 with Chicago.
After a short career in the minor pros in the early 1930's, Jenkins was an NHL regular from 1932-39, albeit with six different teams. He scored 15 goals and 39 assists in 325 NHL games played.
After 1939 he played three seasons with the Hershey Bears of the American Hockey League and then five seasons in the Pacific Coast Hockey League. Jenkins retired in 1948.
External links
Edit
Ad blocker interference detected!
Wikia is a free-to-use site that makes money from advertising. We have a modified experience for viewers using ad blockers

Wikia is not accessible if you've made further modifications. Remove the custom ad blocker rule(s) and the page will load as expected.