The Roger Crozier Saving Grace Award,[1] also known as the MBNA/Mastercard Roger Crozier Saving Grace Award[2] is awarded annually to the goaltender that has played a minimum of 25 games and finished the season with the best save percentage in the National Hockey League. It was first awarded at the conclusion of the 1999–2000 season and has been awarded to six players, who have won the award a combined seven times.
It is named in honor of former Detroit Red Wings and Buffalo Sabres goaltender Roger Crozier, a Calder and Conn Smythe Trophy winner who played 518 games over 14 seasons. It is presented by the MBNA corporation in memory of Crozier, who joined the MBNA America Bank in 1983 and died on January 11, 1996.[1] The winner of the trophy receives a commemorative crystal trophy and is given $25,000 USD to donate to a youth hockey or other educational program of their choice.[1] Marty Turco is the only player to have won the trophy twice.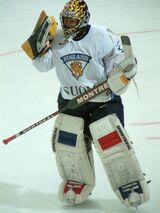 Player is still active
References
Edit
Ad blocker interference detected!
Wikia is a free-to-use site that makes money from advertising. We have a modified experience for viewers using ad blockers

Wikia is not accessible if you've made further modifications. Remove the custom ad blocker rule(s) and the page will load as expected.