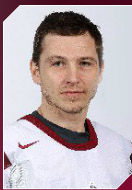 Rodrigo Laviņš (b. August 3rd 1974 in Riga, Latvia) is a professional defenseman who plays in the Kontinental Hockey League for Dinamo Riga.
Formed with HK Pardaugava Riga, Laviņš topped the charts at the 1994 World Junior Championship by collecting 9 assists, the best total of the tournament, and a goal. After a four seasons stint in North America, chiefly in the ECHL and International Hockey League, he comes back to Europe to play with Jokerit Helsinki of the SM-Liiga and AIK IF of the Elitserien in 1998-99. A well travelled veteran, he also spent time in the Deutsch Eishockey Liga, the Russian Superleague, the Latvian Championship and the Belarus Open League.
Laviņš signed with the Metallurg Novokuznetsk in September 2007.
One of the good Latvian defensemen, Laviņš played 47 games with the senior Latvian National Team and 11 with the junior one.
Ad blocker interference detected!
Wikia is a free-to-use site that makes money from advertising. We have a modified experience for viewers using ad blockers

Wikia is not accessible if you've made further modifications. Remove the custom ad blocker rule(s) and the page will load as expected.