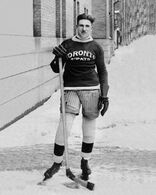 Roderick Thomas Smylie, (September 28, 1895 in Toronto, Ontario – March 4, 1985) was a Professional Hockey player who played 6 seasons in the National Hockey League for the Toronto St. Pats and Ottawa Senators. He won a Stanley Cup Championship in 1922 with Toronto.
He played junior hockey for the Toronto R & AA team in 1915-16. The folowing season he joined the senior Toronto Dentals as they won the Allan Cup. He continued with the Dentals for the next three seasons.
The Toronto St. Pats signed him as a free agent in 1920. Smylie played for them until 1926 (except for 1923-24 with the Ottawa Senators).
Smylie retired in 1926 to become a doctor.
Ad blocker interference detected!
Wikia is a free-to-use site that makes money from advertising. We have a modified experience for viewers using ad blockers

Wikia is not accessible if you've made further modifications. Remove the custom ad blocker rule(s) and the page will load as expected.