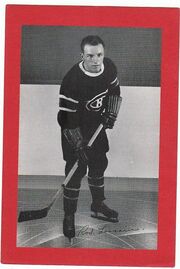 Rodrigue Joseph Lorrain (July 26, 1914 – October 22, 1980) was a professional ice hockey right wing who played 179 games in the National Hockey League. Born in Buckingham, Quebec, he played for the Montreal Canadiens.
He played for the Hull-Lasalle juniors in the Ottawa City Junior League from 1932 to 1934 and then joined th Ottawa Senators in 1934-35. The Canadiens called him up for a one game trial in 1935-36 and then he became a regular in 1936-37. Lorrain stayed with the team through the 1939-40 season as a solid, if unheralded, two-way player.
In 1940-41 he played for the powerful intermediate team from St. Jerome, Quebec. He earned a four game callup with the Canadiens in 1941-42 but played senior hockey in 1943-44 (with the University of Montreal) and 1944-45 (with the Hull Volants) and retired in 1945.
In the NHL he played in 179 games (all with the Canadiens) and scored 28 goals and 39 assists.
External links
Edit
Ad blocker interference detected!
Wikia is a free-to-use site that makes money from advertising. We have a modified experience for viewers using ad blockers

Wikia is not accessible if you've made further modifications. Remove the custom ad blocker rule(s) and the page will load as expected.