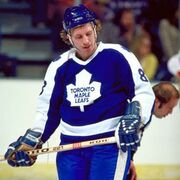 Rocky Ray Saganiuk (born October 15, 1957 in Myrnam, Alberta) is a retired professional ice hockey player who played 259 games in the National Hockey League. He played with the Toronto Maple Leafs and Pittsburgh Penguins.
Saganiuk won the Les Cunningham Award as the most valuable player of the 1978–79 AHL season, playing for the New Brunswick Hawks. He then spent three full seasons with the Leafs. Saganiuk was traded to the Pittsburgh Penguins in 1983 but came back to Toronto in 1984.
After retiring from the NHL due to injuries, Saganiuk went to Great Britain in 1987. He spent nine years there as both a player and coach.
External links
Edit
Ad blocker interference detected!
Wikia is a free-to-use site that makes money from advertising. We have a modified experience for viewers using ad blockers

Wikia is not accessible if you've made further modifications. Remove the custom ad blocker rule(s) and the page will load as expected.