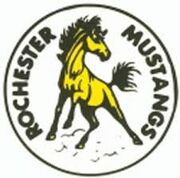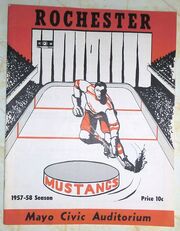 The Rochester Mustangs were a hockey team in Rochester, Minnesota. From 1947 to 1970 they were a senior team in various leagues. From 1985 to 2002 they were a Junior "A" team in the United States Hockey League.
Senior team
Edit
The senior team played as follows:
They played in the Mayo Civic Auditorium.
Senior Mustangs who played in the NHL Edit
Junior team
Edit
The junior team moved to Rochester in 1985. They had been the Austin Mavericks from 1974.
They played in the Rochester Recreation Center, which had a capacity of 2500.
These Mustangs lasted until 2002 when an old arena and declining attendance spelled the end of the team. They won the American National Junior "A" championship in 1987, 1988, and 1998.
Junior Mustangs who played in the NHL Edit