---
For other cities named Rochester, please see Rochester
---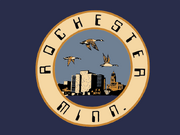 Rochester is a city of Minnesota, United States, home to 99,121 persons.
Hockey in Rochester
Edit
(United States Hockey League Junior B, 2002-present)
(Minnesota Junior Hockey League, 2010-2015) join NA3HL when league collapses
(North American 3 Hockey League, 2015-Present)
(American Amateur Hockey League, 1947-1952) join CHL
(Central Hockey League, 1952-1953) join MHL
(Minnesota Hockey League, 1953-1955) join CHL
(Central Hockey League, 1955-1961) join USHL
(United States Hockey League, 1961-1970) withdrew
(USHL, 1985-2002) ceased operations
Cooke Park Rink
Viking Park Rink
Northern Heights Park Rink
Allendale Park Rink
Nachreiner Park Rink
Manor Park Rink
Mayo High School Rink
Graham Arena 1 (formerly Graham Arena West)
Graham Arena 2 (formerly Graham Arena East)
Graham Arena 3 (formerly Graham Arena North
Graham Arena 4
Withers Sports Complex Rink
External Links
Edit
Ad blocker interference detected!
Wikia is a free-to-use site that makes money from advertising. We have a modified experience for viewers using ad blockers

Wikia is not accessible if you've made further modifications. Remove the custom ad blocker rule(s) and the page will load as expected.