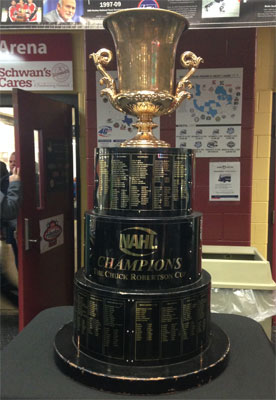 The Robertson Cup was a 6-day, round-robin tournament held at the end of the NAHL season. The trophy is awarded to the national playoff champion of the NAHL. The oldest junior hockey trophy in the United States, the Robertson Cup is named in honor of Chuck Robertson, a pioneer of junior hockey in the NAHL and youth hockey in the state of Michigan. Chuck Robertson was the owner of the Paddock Pools Saints when they won a record seven straight NAHL championships from 1976-83.
The tournament format was changed for the 2013-14 NAHL Season with the four division champions being paired off in 2 semifinal series and the two semifinal winners meeting in a best-of-three final series.
Robertson Cup winners
Edit
Ad blocker interference detected!
Wikia is a free-to-use site that makes money from advertising. We have a modified experience for viewers using ad blockers

Wikia is not accessible if you've made further modifications. Remove the custom ad blocker rule(s) and the page will load as expected.