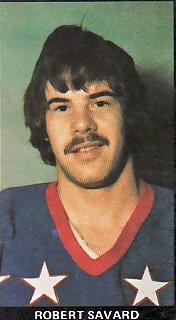 Robert Savard was a Canadian player. He is the only player who win three Memorial Cups in a row - 1980 and 1981 with the Cornwall Royals and 1982 with the Kitchener Rangers.
Ryan Huska and Tyson Nash are the only other players to win three Memorial Cups, but they each won them in non-consecutive seasons - 1992, 1994, and 1995 with the Kamloops Blazers.
He played for Canada in the 1981 World Junior Ice Hockey Championships with the Royals.
Savard was never drafted by the NHL and never played professional hockey.
He is currently the coach of the Timmins Majors midget team. N
Ad blocker interference detected!
Wikia is a free-to-use site that makes money from advertising. We have a modified experience for viewers using ad blockers

Wikia is not accessible if you've made further modifications. Remove the custom ad blocker rule(s) and the page will load as expected.