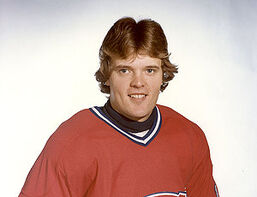 Richard Wamsley (b. May 25, 1959 in Simcoe, Ontario) is a retired Canadian professional goaltender who played for the Montreal Canadiens, St. Louis Blues, Calgary Flames and Toronto Maple Leafs in the National Hockey League.
Wamsley won the William M. Jennings Trophy with Denis Herron in 1982 and a Stanley Cup with the 1989 Flames. He is currently the goaltender coach for the Ottawa Senators.
Wamsley played his junior hockey with the St. Catharines Fincups, Hamilton Fincups, and Brantford Alexanders from 1976-1979. He was then drafted by the Montreal Canadiens 58th overall in the 1979 NHL Entry Draft.
After a season with the Canadiens' farm team, the Nova Scotia Voyageurs, in 1978-79, Walmsley was called up to the big club. In 1981-82 he won the William M. Jennings Trophy with Denis Herron. But after Patrick Roy came. Wamsley lost his number one job.
In 1984 he was traded to the St. Louis Blues and in 1988 was sent to the Calgary Flames. Wamsley won a Stanley Cup with the Flames in 1988-89.
In 1992 he was traded to the Toronto Maple Leafs where he finished his career in 1993.
After his retirement he was an assistant coach of the Leafs for two seasons and the Barrie Colts for one. Wamsley then spent three seasons as an assistant with the Columbus Blue Jackets and four with the St. Louis Blues. He was a mid-season replacement as head coach of the Peoria Rivermen in 2009-10 before joining the Senators.
External links
Edit
Ad blocker interference detected!
Wikia is a free-to-use site that makes money from advertising. We have a modified experience for viewers using ad blockers

Wikia is not accessible if you've made further modifications. Remove the custom ad blocker rule(s) and the page will load as expected.