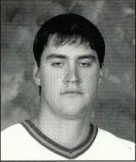 Richard Donald Mrozik (born January 2, 1975 in Duluth, Minnesota) is a retired American ice hockey player who played two games in the National Hockey League for the Calgary Flames in 2002–03. Mrozik was drafted by the Dallas Stars in the 6th round, 136th overall, in the 1993 NHL Entry Draft. He retired following the 2004–05 season after spending eight years in the minor leagues.
Mrozik spent four years at the University of Minnesota Duluth, where he was named a Second Team All-Star by the Western Collegiate Hockey Association in his senior year of 1996–97.
External links
Edit
Ad blocker interference detected!
Wikia is a free-to-use site that makes money from advertising. We have a modified experience for viewers using ad blockers

Wikia is not accessible if you've made further modifications. Remove the custom ad blocker rule(s) and the page will load as expected.