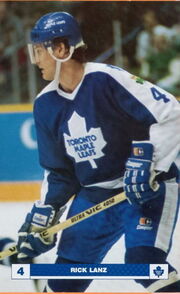 Rick Lanz (b. September 16 1961 in Karlovy Vary, Czechoslovakia) is a former professional defenseman. A good skater and puck handler, he had a solid shot from the point that made him a reliable power play weapon. The Czechoslovak-born player emigrated to Canada at a young age with his family.
Selected 7th overall from the Oshawa Generals in the 1980 NHL Entry Draft by the Vancouver Canucks, Lanz began his National Hockey League the following season. He worn the Canucks, Toronto Maple Leafs and Chicago Blackhawks colours in the league, as well as those of HC Ambri-Piotta of the Switzerland's Nationalliga A and of various teams of minor leagues.
Upon retiring in 1993, he coached several junior teams; he eventually left coaching behind when the Colorado Avalanche hired him as a head scout for Western Canada/USA.
Ad blocker interference detected!
Wikia is a free-to-use site that makes money from advertising. We have a modified experience for viewers using ad blockers

Wikia is not accessible if you've made further modifications. Remove the custom ad blocker rule(s) and the page will load as expected.