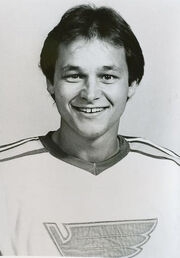 Rick Heinz (born May 30, 1955 in Essex, Ontario) is a retired professional ice hockey goaltender who played 47 games in the National Hockey League. He played with the St. Louis Blues and Vancouver Canucks.
He started out in Junior "B" with the Chatham Maroons and the Windsor Royals. Then Heinz played for the University of Minnesota-Duluth from 1974-78. Undrafted by the NHL, he joined the Port Huron Flags of the International Hockey League for a season. He was then signed by the St. Louis Blues.
Except for a three month period in 1982 when he was with the Vancouver Canucks, he remained with the Blues for the rest of his career. Mike Liut was playing with St. Louis, so there was little time left for another goaltender.
Heinz retired in 1987.
References
Edit
Ad blocker interference detected!
Wikia is a free-to-use site that makes money from advertising. We have a modified experience for viewers using ad blockers

Wikia is not accessible if you've made further modifications. Remove the custom ad blocker rule(s) and the page will load as expected.