The Richmond Renegades were an ECHL ice hockey team in Richmond, Virginia that played from 1990-2003. The Renegades played at the Richmond Coliseum (which they marketed in later years as the Freezer) throughout their existence, and were succeeded there by the Richmond RiverDogs of the United Hockey League.
In their 13 seasons, the Renegades won the Riley Cup as league champion in the 1994-95 season, the Brabham Cup in 1995-96 as regular season champion, and the Northern Conference championship in 1998-99. In the 1999 Kelly Cup Finals they blew a 3-1 series lead to the Mississippi Sea Wolves. The Renegades' rivals for most of their existence were the Norfolk, VA based Hampton Roads Admirals.
The Richmond Renegades name was revived by a new SPHL franchise in 2006-07, owned by original ECHL Renegades owner Allan Harvie.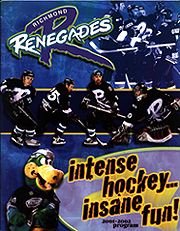 External links
Edit
Ad blocker interference detected!
Wikia is a free-to-use site that makes money from advertising. We have a modified experience for viewers using ad blockers

Wikia is not accessible if you've made further modifications. Remove the custom ad blocker rule(s) and the page will load as expected.