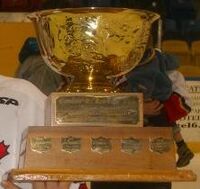 The Gordon Renwick Cup is the Senior "AAA" Central Canada ice hockey championship. The winning of this trophy earns the champion the right to compete in the Allan Cup, the National Senior Championship. The winner of Ontario would play the winner of Quebec for this trophy. Now it is mainly played for as an interbranch championship in Ontario.
The Renwick Cup dates back to at least 1990. Originally, the Renwick Cup championship was followed by an Eastern Canada Championship known as the Bolton Cup, but in recent years that championship has been dropped to expand the size of the Round Robin at the Allan Cup.
The Championship is played for between the Ontario Hockey Federation champion and the champion of Hockey Northwestern Ontario. HNO had now grown to three AAA teams in 2010, The Thunder Bay Twins, Fort Frances Thunderhawks  and the Kenora Thistles, however; Thunder Bay (after 2009-10 season) and Fort Frances (ceasing operations in March 2012) have stopped playing at the AAA level. The OHF champion is determined by the winner of Allan Cup Hockey in Southern Ontario The Northern Ontario Hockey Association has not submitted a champion in recent years.
The Renwick Cup has not played  in recent years when a team from Ontario hosts the Allan Cup as the host team qualifies and  the branch champion qualifies (the Renwick Cup winner)  and since a team from Quebec has not represented the province at the Allan Cup since the Quebec Senior Major Hockey League became professional and renamed itself the Ligue Nord-Américaine de Hockey in 2004, and this birth traditionally goes to a team from the host branch and eliminating the need for the Cup as both the ACH champion and the HNO champion would both qualify.
Over the past several seasons the Renwick Cup has been held between the Kenora Thistles and the champion of Allan Cup Hockey.  However, the Thistles folded during the 2015-16 hockey season after they were originally awarded the right to host the 2017 Allan Cup.  The tournament was then re-awared to Bouctouche, New Brunswick.
Champions
Edit
2017 No Competion as ACH contains all of province's Senior AAA teams
2016 No Competition as Kenora Thistles fold during season
2015 Dundas Real McCoys
2014 No Competition as Ontario hosted Allan Cup (Allan Cup won by Dundas Real McCoys)
2013 Kenora Thistles
2012 Kenora Thistles
2010 Dundas Real McCoys
2009 No Competion as each region of Ontario sent teams to Allan Cup
2008 Dundas Real McCoys' (Allan Cup won by Brantford Blast)
2007 Whitby Dunlops
2006 Whitby Dunlops
2005 Thunder Bay Bombers
2004 Aylmer Blues
2003 Cambridge Hornets
2002 St-Georges Garaga*
2001 Dundas Real McCoys*
2000 St-Georges Garaga*
1999 London MacMaster Chevys*
1998 London Admirals*
1997 Bothwell Bullets
1996 Ohsweken Riverhawks
(*) Denotes winner of Bolton Cup as Eastern Canadian Champions.
Years in bold indicate Ontario based team won Allan Cup