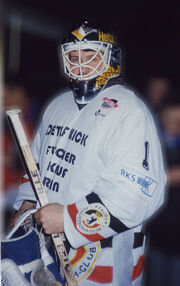 René Bielke (born 1962-04-09 in Weißwasser, Germany) is a former ice hockey goaltender who played for EHC Dynamo Berlin, the "Eisbären", from 1980 to 1992. His 1982 Goals Against Average of 1.17 is still unbeaten in Eisbären history. He gained 31 international caps for East Germany and 2 for the reunified Germany.[1]
References
Edit
Ad blocker interference detected!
Wikia is a free-to-use site that makes money from advertising. We have a modified experience for viewers using ad blockers

Wikia is not accessible if you've made further modifications. Remove the custom ad blocker rule(s) and the page will load as expected.